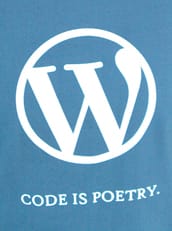 As some of you may know, many of the websites created here at beachdog.com are built using WordPress.
WordPress is a top-notch publishing platform with a focus on aesthetics, web standards, and usability.  It is used for blogs about your dog and Fortune 500 companies alike.  We like it for many of our clients because:
It allows you to make easy updates to your site without waiting, or paying for, web developers like us
It's simple; if you can use Microsoft Word – you can edit your WordPress site
Because it is Open Source, the program is free, not going anywhere, and has thousands of programmers contributing to make it better
It makes it easy for us to make your site mobile-friendly
It makes it easy for us (inexpensive for you) to add a variety of functions to your site
WordPress has a new version (3.0) being released near the end of June.  There are quite a few exciting features but what we're most excited about are some of the technical improvements "under the hood". These improvements allow us to create even more impressive and complex sites.  Previously, when the team met with a new client, they determined if WordPress was a good fit or if they needed a more custom back end solution.  Much of the time, more custom meant a lot more expensive because it required a fair amount of high-end coding time.  Now, with this latest version, we can handle much more complexity, offer lower costs and keep WordPress's ease of use. Thats quite the trifecta!
Already have WordPress? If you would like to chat to someone about what WordPress 3.0 can be used to take your site to the next level — give me a woof!  360-642-4431  or ethan@beachdog.com