"Everyone's Protected When Everyone's Protected"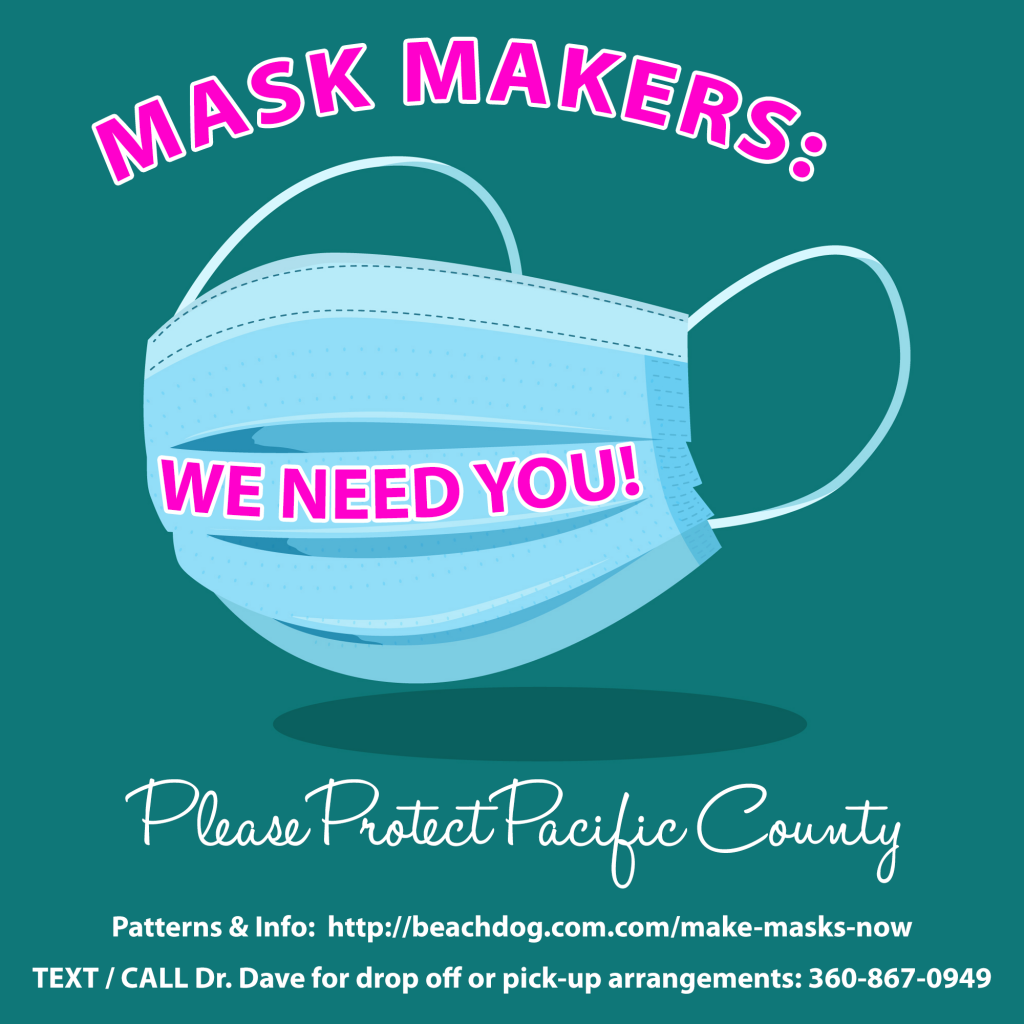 Dr. Dave Cundiff MD MPH, Chief Medical Officer for Primary Care at Willapa Behavioral Health wants us to know that masks have the power of compound interest.  The more people wearing them over the most time make the most positive impact against disease transmission in our community.  Everyone at Willapa Behavioral Health is working to make sure every person in Pacific County, Washington is mask-wearing as of, well, yesterday.
It's true that homemade masks don't work as well as surgical masks.  But they do help — especially if you're the one infected and spreading the wealth.
IMPORTANT:
Masks do not replace the other protective measures we've all been asked to undertake.  STAY HOME, keep your distance, wash your hands, shop as infrequently as is reasonable… covering your face is an added layer of safety, one more tool in your box.
There is a Distribution Plan!
Willapa Behavioral Health (WBH) has a plan for moving the masks into the community.  Using expanding circles of influence, their goal is to continue distribution until every single staff member, client, their families, and all those they come into contact with (pretty much everyone in the County) has a mask and wears it whenever they are out of their home. 
Make a mask for yourself, your neighbor, and more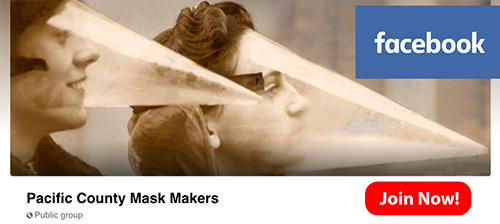 What kind?  It doesn't matter!  Masks can be made in a variety of sizes, shapes, and colors, and will be matched to a person's shape and situation that is the best fit.  The video tutorial below uses a pattern that is one of Dr. Dave's faves, but you can Google "medical mask pattern" and you'll find dozens of alternatives. For fabric, focus on tightly woven cotton that is soft enough the wearer will be comfortable–and keep the mask on.   There is new evidence that blue shop towels are the best material in terms of not letting the virus through.  Read more.
How many?  LOTS.  There are about 23,000 people in the County on an off-season day.  We've got quite a bit of sewing to do!
What if I don't sew?  There's some great stuff called fusible webbing.  It lets you iron rather than sew, essentially gluing the fabric in a way that leaves it soft.  These masks won't hold up as well to repeated washing, but they are better than no mask to be sure!  Find fusible web at Joanne's or any fabric and notions supply store. You can find a lot of patterns, instructions, and videos on their site.  We're plugging Joanne's because they are giving away mask making kits and also encouraging seamstresses to help them give away one million masks.  We prefer you sew for the local effort!
What do I do with my finished masks?  
WASH.  Act as though everyone–even you–is infected. Give your mask(s) a nice hot run through the washing machine. This will get off any germs you deposited while making your gift.
GLOVE.  If you can, put on a pair of gloves, or put your hands in baggies while you handle the freshly-washed masks.
BAG. Put the masks in small sandwich bags or lunch sacks.  It's okay to put one, or several in a bag.  Close the bag tightly and mark it "CLEAN" so we know they are ready to hand out.
DROP them at Willapa Behavioral Health:
     North Pacific County:
     300 Ocean Avenue  Raymond, WA 98577
Monday – Thursday 9am to 7pm  & Friday 9am to 5pm
     South Pacific County:
     2204 Pacific Avenue North Long Beach, WA 98631
Monday – Thursday 8am to 7pm & Friday 9am to 5pm
OR TEXT / CALL Dr. Dave for drop off or pick-up arrangements: 360-867-0949
HINTS:
Use a pipe cleaner instead of bare wire, or no wire at all.
Use grosgrain ribbon instead of sewing casings.  You could also use a shoelace!  Just don't use anything shiny or slippery.  You don't want that mask coming untied until the wearer decides it's time.
Here's a similar tutorial, with diagrams instead of video: