So what's up with the dogs?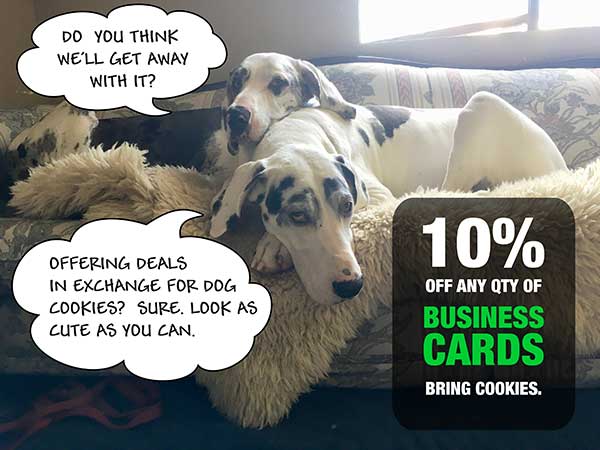 It's pretty ironic, considering we're a marketing company, having a name that says nothing about what we do.
The truth is, beachdog.com was never supposed to be a real company!  By the time it had become one, the name had good recognition, so we kept it.
But what about the Great Danes?
Our owners, Keith & Keleigh Schwartz, are very involved with pet rescue in general and Great Dane rescue in particular.  Their gentle giants are usually at the office, as are occasionally a foster dog or litter. We do a lot of pro-bono work for the South Pacific County Humane Society, the company's "pet cause."
DO follow us on Facebook as the dogs offer specials there from time to time!
Fear not: If you don't like to be greeted by our canine mascots, we'll gladly keep them away from you. 
Currently, the dog in residence is: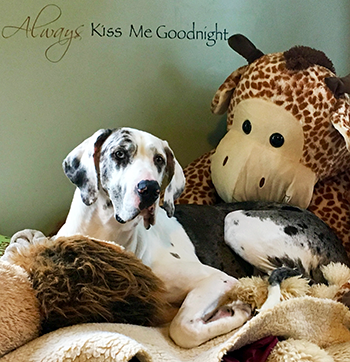 Teacup, (aka "T") b.2015.  Miss Teacup came to us just days after her second birthday in July of 2017.  She'd just had a bad spay that required attention, this immediately following having been separated from her people, puppies and partner dog. She's deaf and vision challenged, facts that seem to have eluded her first family as they not only bred her, she wasn't taught touch or hand signals.  This girl's tail never stops wagging. She loves everyone and everything.  Our "Bull in a china shop" looks forward to your visit so she can lean on you and get a hug.  Blow in her face and she'll be your pal forever.

Running Leash Free over the Rainbow Bridge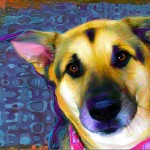 Karadog, our founder 1994-2008.  Karadog was one of those amazingly special dogs.  She had friends all over the Pacific Northwest who recognized her because she had made such an impression on them while staying at HER motel in Seaview.  It was the traits she so readily offered that served to form the name of our company: this beach dog was loyal, friendly, tenacious, patient, thorough, fun-loving, adamant, creative, problem-solving, smart, silly, loving, and a little bit wicked.  She is long remembered and missed.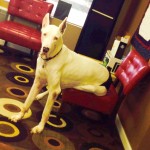 Aspen Calla Lilly, (aka "Get your lily white as…pen over here!)  2002-2014, came to us at 6 years old as a hospice dog.  This tough ole' broad's health improved significantly once given the diva treatment she knew in her heart she was due. We were delighted to enjoy her company another six years.  While she was profoundly deaf from birth, most people never noticed.  A master watcher, Miss Lilly was very good at using the other dogs as her ears …and getting them to do things for her whilst she sat in the lobby as though waiting for tea.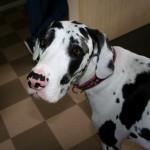 Perdita, (aka Perdita Bonita Maria Zebrina Rosa Schvartz) b.2006-2016.  Rescued as a pup, Perdita had a neurological disorder that caused her to have panic attacks and a lot of nerve pain.  She was shy with new people …and charmingly demanding of those she knew and loved.  Her allure was lost only on a very few.  She left a cavernous hole in our lives when she crossed the rainbow bridge just after Christmas.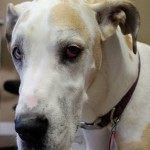 Minnie, (aka Minnie Pearl) 2007-2017.  Named after a Paint horse (and with the personality of a former Hee-Haw star), Minnie came to us in the Spring of 2012 when her family wasn't able to give her the attention they knew she deserved.  She pretty much thinks she lives in Doggie Disneyland.  Or maybe on the Hee-Haw set.  Her gift was to figure out what you needed in order to pet her.  She left us by surprise over Memorial Day weekend with a heart attack following bloat surgery.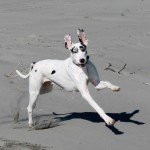 Panda (aka Panda-monium), b.2010. This amazingly sweet and smart girl came to us just as 2014 became 2015. She had spent the first 4-1/2 years of her life paired with a dog that picked on her, whelping puppies. We gave her an intensive training program as EVERYTHING in 'normal' life was new to her and she was easily over-stimulated. Her exuberance knew no bounds!  Panda made incredible progress during her time with us, becoming the best-behaved and 'normal' dog.  Sweet Panda left us in 2020 after making "double digits;" the age of ten.