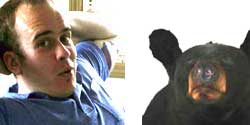 We're pleased to introduce you to Ethan Seifert, who joined our team a couple of weeks ago and has been getting oriented to his change of career, state and general culture.  A Portland native, Ethan comes to us from OHSU where he was lost in a land of cubicles for a number of years.  His expertise is in database design and development (Access, MySQL…you name it), PHP, and pretty much back-end code in general.  He also brings a strong teaching acumen to our tool box; we're plotting and planning how to best exploit his gifts for your benefit.
Ethan's first assignment with us was to bend the upcoming release of WordPress 3.0 into submission.  I'm delighted to report that the combination of this new release of WordPress, along with Ethan's skill, adds quite a number of fun tools to our box.  Look for lots more information on this in the coming weeks, starting with a post from Ethan later today.
If you've not met Blair and her trusty sidekick, Ollie, or Ethan and his muse, Humphrey, stop in and say hello!  They're both available to you during our normal business hours of 9-5, Monday through Thursday (before and after hours, Fridays, weekends and holidays we leash everyone to desks and feed the Web Hounds kibble for code).