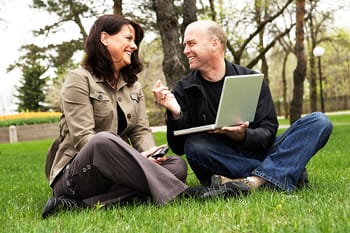 Excerpts from an article in yesterday's New York Times:
Use of social networking by people aged 35 to 54 grew 60 percent in the last year.
Adults have driven the growth of many perennially popular Web services. YouTube attracted young adults and then senior citizens before teenagers piled on. Blogger's early user base was adults and LinkedIn has built a successful social network with professionals as its target.
Older populations are a smart thing to be thinking about, as opposed to eternally going after the 15- through 19-year-olds.
Forrester Research self-summarizes its report:
"Social technologies continue to grow substantially in 2009. Now more than four in five US online adults use social media at least once a month, and half participate in social networks like Facebook. While young people continue to march toward almost universal adoption of social applications, the most rapid growth occurred among consumers 35 and older. This means the time to build social marketing applications is now. Interactive marketers should influence social network chatter, master social communication, and develop social assets — even if their customers are older."
Another Forrester report says brands should reach Gen Xers through word of mouth:
"The once "ambivalent" Generation X — adults ages 30 to 43 — has become a mainstay of the workforce. This generation has adopted social technologies and is highly vocal as nearly half tell their friends and family about products that interest them. Brands seeking to reach Gen X should factor into their marketing programs a way to reach them socially by creating platforms for them to spread word of mouth, encourage them to create content, and engage them in advocacy programs."