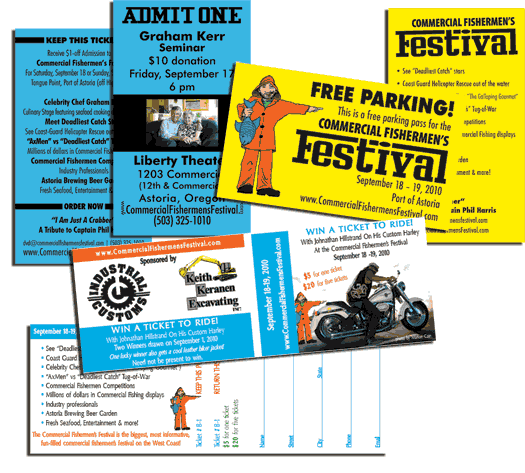 We told you back in May about the new Commercial Fisherman's Festival site, along with the Captain Phil Harris Memorial CD we did for them.  This is such a great event!   It's a ton of fun, whether as a spectator, or a participant, so mark your calendar for September 18-19!  The group is super-easy to work for because they understand branding and do a great job keeping their message consistent.  They also have high expectations for the product which, frankly, we LOVE.
While budget full-color printing is certainly something we do well, we're incredibly proud that we don't sacrifice quality to get the low pricing our customers enjoy.  We have relationships with a number of fine print shops and we match the job to the shop. The less waste–whether it's excess paper trimmed because of the size of sheet the press takes or lavish time in setting up a press to run a custom job–the lower the cost and the better for the planet.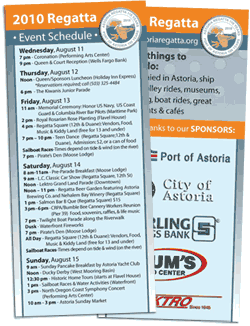 You've read, here on our blog, about how passionate we are about buying locally sourced goods and services when it is reasonable.  We are avid supporters of the 3/50 project and do our best to strengthen the economy of the community in which we live.  We've found that most local merchants are happy to offer the products we buy at a comparable price and are always surprised when they can beat the price at the big box stores (Thanks, Dennis Company, for stocking our favorite dog food!).
It's a balancing act, keeping awareness of one's carbon footprint, keeping business local, stretching one's dollar and finding exactly what you want (not to mention avoiding use of pesticides, recycling, remembering to bring our own bags to the store and ten thousand other things we all try to do!).  We're far from perfect, that's for sure!  Sometimes we print here in our own shop, because that's the best balance point, and sometimes we send art to another shop , on or off the Peninsula.
As a customer, you can rely on us for giving you the best solution we can, based on what we know about your buying preferences.  Sometimes, price is the deciding factor.  Sometimes, it's the highest of quality, and sometimes it's making your project as green as possible.  Usually, it's somewhere in the middle. We love questions about what we can do and will always seek to find you the best fit based on your needs–not ours.
Why am I waxing on this particular topic today? Because it's what I think of when I think of the Commercial Fishermen's Festival (CFF) projects we've completed.  CFF is an event.  Events are typically run by non-profit organizations that are notoriously low-budget so price tends to drive a lot of decisions, with green and 'keep it local' concerns coming in next, followed by print and paper specifications and quality.
The cards above, and most of our full-color card projects, print on a gang-run press.  That means they are part of a BIG sheet of other people's full-color card projects.  Since everyone shares the cost of setting up the press, the cost for small quantities becomes really very reasonable. We're able to select FSC Certified (green) papers and the gloss is an environmentally friendly aqueous coating.  It's a great fit for many budget-minded projects.
In the 8 or so years we've been working with this particular press, we've done hundreds of jobs had four problems that I recall.  The blue cards above were one of them.  Simply, they got cut and boxed before the gloss coating had fully dried.  As a result, cuts were uneven and the cards stuck together.  UGH!  Worse, we broke our own protocol to inspect all products before they releasing them to the customer and our client saw the problem before we did (20 lashes with the tongue of an old, smelly dog for us!).  I'm happy to report the cards were promptly replaced and our client remains both gracious and content.
You don't need to sacrifice quality, price, color, paper, environment, locale… anything.  You just need someone who knows enough about the industry to help you find the right balance point for YOU. We'd like to help.   Give us a woof. 360-642-4431