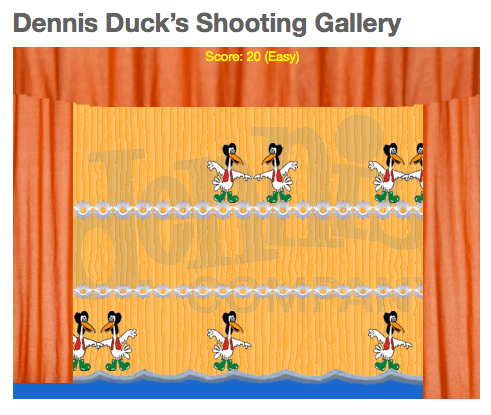 Long Beach is a kitschy town.  We've got pinball machines, laser tag, mini golf, go-karts, old-fashioned-and new fashioned-bumper cars, bumper boats, candy, ice cream, elephant ears, kiddie rides, a carousel, real horseback and horse-drawn carriage rides, clowns, face painters… the list goes on.  So when Dennis Company wanted to add an interactive game to their site, an old-fashioned shooting gallery seemed, well, the obvious choice.
The game's been online just over a month now and is already the second most popular page of their site.  After playing, site visitors are sticking around to look at other pages, and they're sharing the site with friends – our two goals for the game.  We're planning the next game already, and this time we're going to let Keleigh do the graphics.
Winning the game nets you a nice coupon.  Winning level two nets an even nicer coupon.
Have you played yet?