I happened past Baker Bay Mobile Home Park the other day.   It's such a beautiful spot, I almost wish I wanted to go back into the RV Park business.  Let's face it, RV owners are a great group.  They're either on vacation and enjoying the heck out of themselves, or they're full timers, most of whom are ready to hang a flag to welcome guests and get some chat going.  I do miss our little park sometimes, especially seeing friends return year after year and hearing of their travels since we last saw them.
Baker Bay Mobile Home Park is a great opportunity for a couple or family who want to live and work at the beach. Karl did a nice job of building their site quickly and inexpensively using an "out of the box" theme for WordPress and the current owners' text and photos.  It really expresses the feel of being on Baker Bay, one of my favorite Peninsula locations.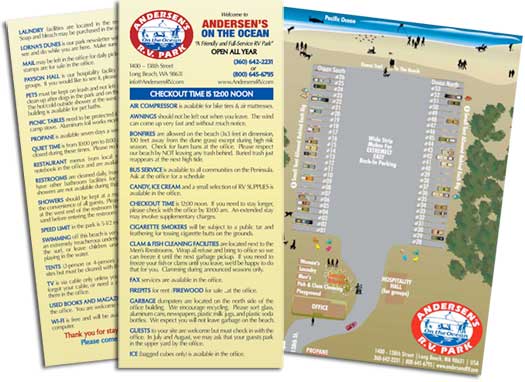 Another park for sale here on the Long Beach Peninsula, is the larger and more active Andersen's RV Park.  Just a footpath to the beach, Andersen's is the closest to oceanfront an RV Park can get here.    Owner Lorna Andersen Follis learned the business from her father, who built the park.  Maybe that's why her team is constantly getting positive reviews, especially about their customer service.  They put in a new septic and completely redid the sites just a year or so ago.
We first built the Andersen's RV Park site back in 1996 and, while it's been updated regularly, it has stood the test of time very well.  Lorna gets so much positive feedback on it, we've been unable to convince her to update the visuals.   We listen to that; while we pride ourselves on our knowledge of marketing, particularly in the tourism niche, you ALWAYS know more than we do about the specifics of YOUR business.
Lorna's most recent projects are a re-make of a card she hands out during check-in, and a custom-illustrated map of the park.  Her casual, friendly style, and her sense of humor come out in her collateral, don't you think?