The popcorn challenge started as a friendly banter between friends and competitors on facebook and I have to say when I first heard about it I thought it sounded like a fun friendly rivalry. This happens to be between Bob's Sporting Goods and Dennis Company with great potential for cross promoting for all the businesses involved.
Yes, it is a fun and friendly contest and promotion but I was also schooled in popcorn machines. Who knew there was a difference?
As someone who enjoys vintage Americana and old movies I was delighted to learn about the Manley Popcorn Company and their machines. Click here for a history on the company that brought you movie theater popcorn!
Dennis Company in Raymond boasts a vintage Manley Popcorn Machine with Joe as the head popcorn chef. I have yet to taste corn popped in a Manly but I am excited for tomorrows challenge when I get to sample the corn popped in a iconic piece of American made history!
The Manley Popcorn Machine at the Raymond Dennis Company.
A Manley with great style looks to be early 1950's my guess is it served  many bags of popcorn to movie patrons during the golden age of movies.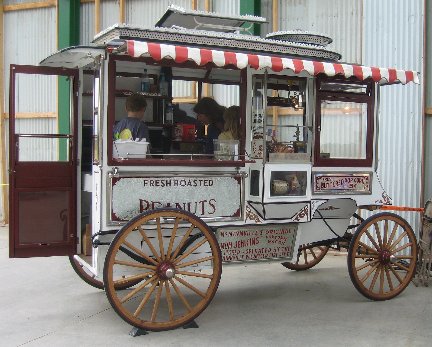 Not sure if this is a Manley but these wagons would park out in front of the theater selling popcorn to people heading into the theater. Eventually theater owners realized they could be reaping these popcorn profits themselves and movie theater popcorn was born.
Taste the difference yourself at the Popcorn Challenge noon tomorrow at the Lost Roo. The winner will be determined in a blind taste test by the esteemed judging panel consisting of Michael Lalewicz from the The Depot Restaurant, Mike Littawa from the Breakers Long Beach, Blane Walker from the 42nd Street Cafe, Betsy Millard from the Columbia Pacific Heritage Museum, Brady Turner from Adrift Hotel & Spa, Andi Day from Long Beach Peninsula Visitors Bureau, and Jan Grambo from the Lighthouse Oceanfront Resort. The real winner of the challenge will be ether Cowlitz County CASA or the Boys & Girls Club of the Long Beach Peninsula with the loser of the challenge donating $250 to the others charity of choice.