Recently Karl Plato from Pacific Bow Butts contacted us to become his new webmaster.  During the course of  Karl (Plato)'s discussion with Karl (techdog) Johnson, beachdog.com was introduced to Randy  Soleta from Lismore, MN.  Randy is a distributor for the Pacific Bow Butts line of archery targets in the Northern Plains States of MN, IA, IL, NE,  ND, SD and  WI.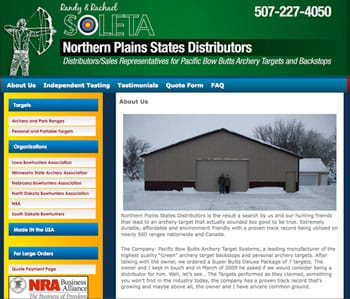 Beginning with only a simple logo and a desire to have a clean, professional, and easy to use web site, beachdog began design ideas.  Keleigh took the simple design and evolved it into a wonderful header logo that the client simply loves.  The rest of the site was designed with simple color blocks which reflect the traditional target incorporated into the logo.
The site structure was relatively simple with 4 archery target products offered. along with a quotation form, available for Parks or Ranges who are requesting a price quote for larger quantities of targets.  We were even able to provide the ability for Northern Plains States Distributors to take online payments for custom quoted orders through the use of a specialized PayPal payment plugin.
During the course of the training process Randy remarked that he would benefit with a simplified tutorial in some kind of document.  This made sense to Karl (techdog) as well; too often clients understand things during the training session but do not use their new skills quickly or often enough and so forget how to do things.  So Karl (techdog) created a very simplified Word Press Tutorial/Instruction Sheet.  As time permits, Karl (techdog) will expand on the Tutorial.  Sabrina created a video Tutorial series for another client which is now available on YouTube.
It was a pleasure to work with Randy and, while he will be the first to profess he is not much of a computer person, he asked questions and understood the answers and wasn't afraid to learn about something new.  That's really all we ask of our clients.
Take AIM at your future and expand your web presence in 2010.