You can get a bottle of great wine from just about anywhere in the world at Astoria's The Cellar on 10th.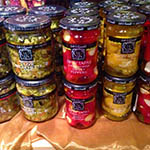 Inside the cellar, you'll find an old European feel, with not only a delightful selection of wines, but unique noshes to go with them.  Putting a gift basket together is difficult only because there are so many delicious choices in the colorful bottles and jars on display. A wide variety of cooking accessories, cook books, candles, grilling accessories and more are yours to peruse as well.
The Cellar on 10th offers several wine clubs, and even has a private tasting room perfect for group events.  Winemakers dinners, wine tastings with food pairings, educational classes, and a variety of other events are fresh every.  Check the calendar on the site, or sign up for the e-newsletter to stay in the know!
When we first met the back end of The Cellar on 10th website, we found two web sites married into one.  The shopping area had been updated using a solid piece of cart software and was serving the business well.  The non-shopping pages had been designed and kept up in "old school html" which made them painstaking to update –and to get a decent search engine rank.  Moreover, they are not mobile-friendly, something critical in today's world.
We first rebuilt the non-shopping pages using WordPress, then gave the shopping cart pages the same header and navigational system.  This made for a user experience that was seamless; visitors experience one site, not two.   The new site is mobile-friendly and optimized for a strong organic result in search engines. 
The best part about this conversion is the price tag.  Owner Mike Wallis, who happens to be our CPA, will recover the cost of the conversion in less than a year due to the new ease of making weekly updates to the site.  Win!