Introducing the new Independent-Books.com!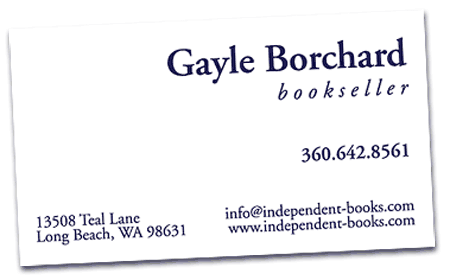 Gayle Borchard has years of experience in the book industry and has taken her expertise online. She now offers online just shy of 10,000 books, as well as appraisal and research services to book collectors around the world.
Gayle wanted a clean look that was easy to navigate and included an advanced book search feature on each page. She also needed a powerful shopping cart platform to provide her customers with a full service shopping experience.
Having worked with Gayle on her business card design, Keleigh knew how important color was going to be to this project.  She designed the website to give a soft, sea feel while keeping the signature eggplant shade of purple that had been used in the cards.  The site has a lightly feminine touch, without being girly.  The strong lines evoke a craftsman feel without being too structured.  This site well-reflects its owner.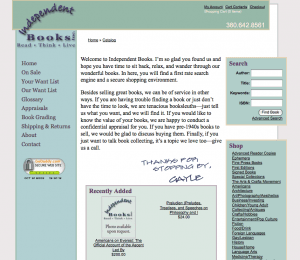 Because Gayle uses a specific book database program that is not readily compatible with online shopping carts, our web team wrote a custom import module so it would be easy for her to export her data from one database and import it into her cart, avoiding the drudgery of doing data entry twice.  Doing business here in Washington state, Gayle also needed a custom sales tax module which allows her cart to calculate sales tax based on the shipping destination.  We delight in providing custom solutions to meet our customers' needs.
All of our web hounds worked on this project, along with a couple of our tried-and-true subcontractors, with Kathy as the team leader.  Book selling online is a competitive business, so we went a bit beyond step one of our three-step online marketing process.  Once we see how the site does organically, Kathy and Gayle will decide how to best move through steps two and three to meet Gayles' objectives.
From Independent-Books.com:
"Our goal is to surprise and delight you with an eclectic selection of fine used, antiquarian, and rare collectable books. Our books are in great condition, and we frequently have one-of-a-kind collectibles in truly extraordinary shape. Our hallmark is customer satisfaction accomplished by adhering to the highest standards of service, by providing the greatest value for your investment, and by treating you the way we like to be treated."
We can testify to that.  You can ensure a positive experience when dealing with Independent Books.  Gayle's got a solid reputation with her customers and in the book selling community.  We kinda like her too. 😉