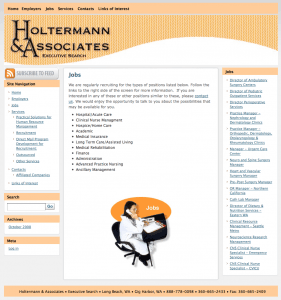 This web development project, headed up by Karl, was a great example of taking an existing site and bringing it into the new era of what works.  The internet changes so quickly, both in terms of what 'toys' are available to a site owner to make their site attractive, functional, and 'sticky,' and with what technologies and tactics work best to get your site found.
Pat came to us with a well-designed, html-based site that had gotten a little out-of-date from a technology perspective.  She was relying on a webmaster to make the majority of changes to the site, an effort which was, by nature, frequent.  Changes in that relationship left her unable to edit her site in the way she needed and she came to us for a solution.
Recreating her site using WordPress solved several of Pat's challenges.  She was able to keep the look and feel that she liked, while giving the site a face lift.  She gained an easy-to-use interface that lets her edit most every aspect of the site herself, adding, changing, and deleting posts, pages, and pictures; it's all in her hands.
Our hosting package gave Pat the email boxes she needed.
Kathy was also able to upgrade Pat's search engine optimization, making the site "Google-friendly" so she will gain a strong, organic, search rank.  Because the site is blog-based, Pat should see a strong organic result quickly.
[Holtermann & Associates] focus is executive search of healthcare professionals: Administrators, Director of Operations, Director of Nursing, Finance Managers, Rehabilitation Services Professionals, Medical Insurance Professionals and other healthcare managers. Our clients include hospitals, skilled nursing facilities, clinics and Medical Insurance Organizations. Our specialty is finding the right person for your job and the right career move for the candidate. At H&A the recruitment staff knows how to find the right people for your openings … quickly, economically, and consistently. We recruit, screen, pre-qualify, and refer only those candidates who meet or exceed the qualifications that you require in your next employee.