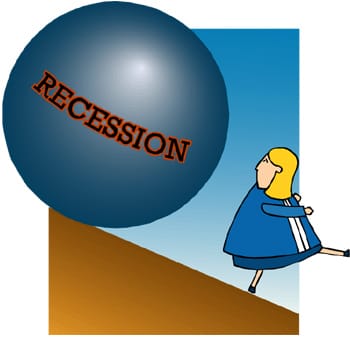 Randy Dennis of Dennis Company shared this timely and accurate information.  Enjoy.
Sixteen Ways to Survive a Recession and Build Your Sales by Toni Harkins
Managers who approach tough economic times with a get-down-to-the-essentials attitude come out of a recession with renewed vigor and a jump-start on the good times to come.
Managers can use these 16 tactics as survival techniques during the recession and to lay the groundwork for capturing greater market share when it's over.
DON'T EXPERIENCE RECESSION.
The economy has not completely collapsed; it's just harder that it was a few years ago to sell. There's still business to get. Step up advertising, marketing, television marketing – all front-end business activities. It's important to hold on to your cash, but don't do the foolish things that cause your customers to forget about you. You need more customers, not fewer.
LOOK AT YOUR RESOURCES.
Brainstorm how you can make just a small difference in improving results with each resource. Time, salespeople, and customer service representatives are your finest resources. Think "resource to results" and utilize your resources to get better results.
GO FOR EXCELLENCE IN SERVICE.
Get finicky on behalf of customers. Do whatever it takes to give legendary service. Be sure that not only your staff is customer friendly, but that all systems are friendly, including distribution (purchasing and merchandise flow), accounting (accounts receivable and accounts payable), delivery, and follow-up services. Search for small things you can do better.
GET OUT OF YOUR COMFORT ZONES.
Do and think things you've never done or thought before. It's time for a change. Old reflexes that used to kick in when recession loomed will have to be rethought. Get innovative, entrepreneurial, and forward thinking.
BELIEVE THERE IS AN ANSWER.
Be convinced that others have won in all kinds of difficult situations and are still winning. You can, too.
REJUVENATE SELF-CONFIDENCE.
In hard times, it is easy to become discouraged. But if you're discouraged, the entire company becomes discouraged. Be the leader you know you are. Sharpen up and shape up!
WORK ON A PLAN OF ATTACK.
As if you were a great general leading your forces into battle, remember: Wars are won in tents. Write down your goals and prepare a written action plan.
TRAIN TO PEAK PERFORMANCE.
People are your number one unlimited resource. Hold on to your cash in a down market, but not your training dollars. If sales are down, train your salespeople. If morale is low, management training needs to be number one in your plan of attack.
MEASURE PERFORMANCE.
When performance is measured and reported back, the level of performance improves. Frequent measurement in key areas will boost morale, and productivity will jump, as well. Measuring performance more often will accelerate improvement.
KEEP YOUR EYE ON THE BALL.
In most companies, getting and keeping clients is the most important activity. Nothing should get in the way of this. Ask yourself throughout the day, "Is this activity getting and keeping clients?"
INTERACT WITH THE SALES FORCE.
Have daily meetings. If your outside salespeople don't come to the office regularly, have them fax (or e-mail) their daily schedules to you. Poor time management and people management leads to a deadly disease – procrastination. Inspect what you expect.
CREATE A THEME.
Some examples: Catch the vision. Catch the Fever. I have a dream… When the going gets tough, the tough get going. Put inspirational posters and mottos on the walls, in the foyer – everywhere. Don't let your people forget their unlimited potential.
ACCEPT RESPONSIBILITY.
Don't blame anyone or anything. Blame drains you of energy. You need massive quantities of energy to manage manpower and morale.
STAY THE COURSE.
Columbus stayed the course. His daily log, through storms, mutiny, disease, and disaster repeated only one entry: "We proceeded south by southwest."
ADJUST.
It is easier to adjust to the hardships of a good living than to those of a poor living. Make the decision. You, the boss, need to be in the field networking and selling, just as you did in the old days. I gave this sage advice to the president of a copy machine company. He hit the streets for the first time in 15 years and closed a contract for 60 new machines in the first five days.
HAVE A DREAM.
Become a visionary! "I was International Business Machines in my father's garage," said Thomas Watson.
. . . . . . . . . . .
"Few men during their lifetime come anywhere near exhausting the resources dwelling within them."
Richard E. Byrd