We're delighted to see Scrapaccino is selling a LOT of Anna Lena's fudge.  And yes, Roger, you can still get your favorite Cranberry-Walnut!  We did a new label for the fudge boxes and rushed it over to the shop just before the Independence Day weekend when we learned they had gone through the batch they were desktop publishing.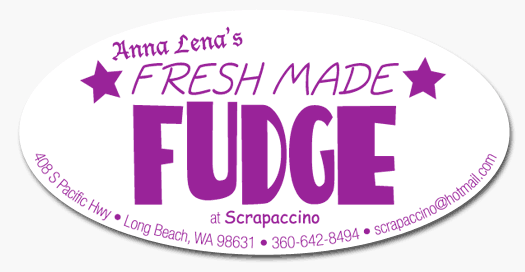 Here are a few questions to help you decide if you should order labels or print your own:
Do you need fewer than 250 labels?  PRINT THEM.
Do you need them faster than 3 days?  PRINT THEM.
Do you need a standard size, readily available in sheets to run through your printer?  PRINT THEM, unless…
Is it important that the labels look super-professional?  ORDER.
Will the labels need to stick in humid, wet, very hot or cold conditions?  ORDER.
Do you want to use "green" papers and inks? ORDER.
Do you want florescent, metallic or embossed labels?  ORDER.
You might notice that cost is not on the list.  That's because it can be deceiving.  It seems less expensive to desktop publish because you've already got a printer and ink and you only need to buy some label stock.  And if you need just a few sheets, that's absolutely the case.  But if you need at least 250, and definitely if you need 500 or 1,000 labels, it's actually less expensive to order them–and you get a better looking product!
When you do decide to print labels yourself:
Don't waste postage and materials costs when printing your own mailing labels:
use a laser printer, or
inks and paper designed not to run if exposed to moisture, or
print on paper and then photocopy onto label stock.
The last thing you want is for your investment in a mailing piece to end up in the undeliverable bin at some post office because the 'to' and 'from' addresses became unreadable in our wet Washington sunshine (or some other place between you and the destination).
If you need a custom size or shape, but small quantities, or you simply want to print yourself, check out www.rippedsheets.com.  These good people will create sheets you can run through your printer in whatever cuts you need.   More than one of our clients use them to custom print labels for products they sell.  It allows them to print, for example, neck, bottle and cap labels on one sheet, a bottle or two at a time for private labeling projects such as wedding favors, hotel shampoos and the like.