It's Free Fishing Weekend in Washington and Oregon on Saturday and Sunday, so no license is required for the two days.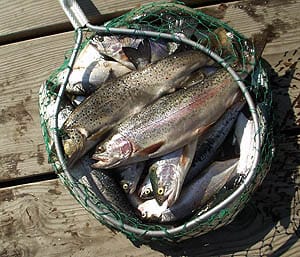 Other rules such as size limits, bag limits and season closures still apply, and anglers in Washington also have to complete a catch-record card for any salmon, steelhead, sturgeon or halibut caught.  More info in the Washington Department of Fish & Wildlife press release.
They also have a great new page on fishing for your supper:  Do you like to eat fresh food from local sources?  Want to know where your family's food comes from? Trying to keep your food costs down?  Go fresh, go local — go fishing!