Glorious, Creativity-Bursting, Custom Label Season!
One of my favorite things about the week between Christmas and the New Year is the arrival of catalogs from all of our label vendors.  They arrive in fat envelopes, with samples, updated paper options, colors, foils, varnishes… whee!
Variable Labels
This year, the pricing on variable labels is much more favorable.  Imagine a label with your logo and contact information and with a different product name or number on each.  Or maybe you want a return address label with a variety of images, one on each label.  The options are wide and this kind of personalization is HOT right now.
Custom Shaped Labels
Another upgrade available is a huge improvement in custom shaped labels. Laser cutting uses a high-powered beam to cut material rather than using a traditional hard die. The result is custom shaped stickers of any shape, any quantity. Say sayonara to squares, and bid adieu to ovals: Custom shaped labels can be produced in the shape of cars, stars, fruits, toys, trees, animals, flowers… well, you get the idea. If you can imagine the shape, we can cut it.
Custom shapes are perfect for making products POP out amongst the competition.  Popular with restaurants are sheets of custom shapes in paper doll or pirate themes.  They beat the heck out of a coloring sheet while waiting for a meal.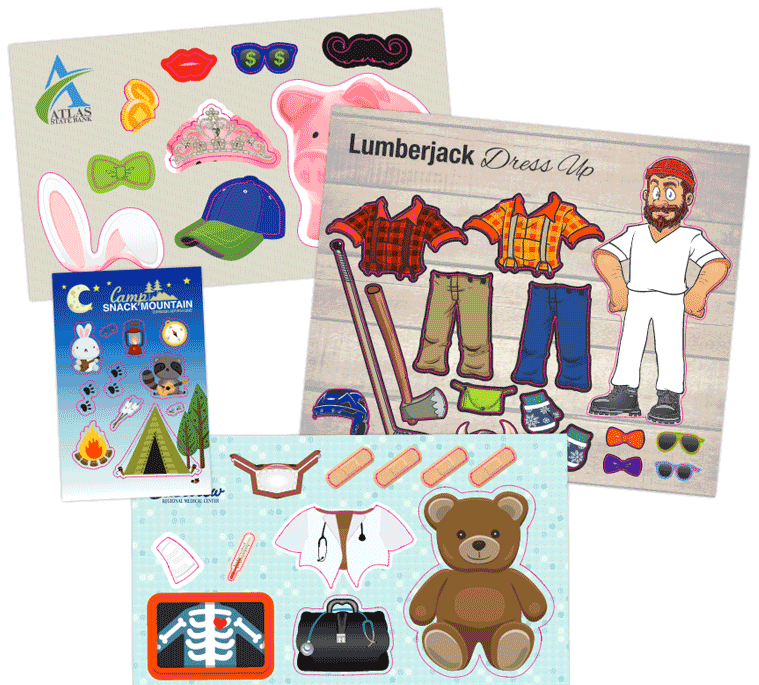 Ask About These Custom Labels:
72-hour FAST options:  A variety of stocks, shapes and sizes are available for super-fast turnaround.  Tell us what you need!
Window Clings/Decals:  These are one of our most popular products.  Clings are easy to remove, move, and reuse.  Decals are more permanent.  Both are ideal for windows and other smooth surfaces and can stand up to outdoor use.
Bumper Stickers:  Everyone loves bumper sticker giveaways, making these ideal for your event or promotion, or even to show membership.
Water Bottle Labels:  Very popular for markets and at events, these labels let you brand a product with your logo and information.  The bottles tend to get carried around so you get many impressions.
Foil & Embossed Labels: These are so much fun to create! We have a variety of foil color options and embossing adds class to labels.  One of my favorites is blind embossing, where we don't print at all but rather emboss the design onto a metallic label stock.  Elegant!
Mailing and Computer Labels: Pinfed, custom folds – whatever your setup needs.
Extreme Heat/Cold/Wet labels: We've made labels to stick to USCG helmets that need to withstand deep water and cold temperatures.  We've also done labels that need to stand up to adherence on a stove pipe. 
Color-Logic: a 5 Color Process Metallic Color System that allows you to create up to 250 metallic colors in a single print run along with different effects, gradations, watermarks, and dimension. Great for shelf appeal and security features.
Coupons & Clean Release Labels: Designed with a dry release adhesive that allows the end user to remove the top layer of the coupon. The coupon is not sticky once removed and can be printed on one or both sides.
Double Sided Labels & Decals: printed on both the front and back (adhesive side), allowing the label to be viewed from either side of a clear surface.
Scratch-Off Inks: Coins at the ready? Increase customer response on your next promotion or event with a gold or silver scratch-off label.
Self-Laminating Labels: These durable labels begin as a standard label but have a lamination that is partially applied. The self-lamination feature protects your writing and helps keep the label surface protected in harsh elements.
Tamper Evident Labels: These security stocks break apart and leave a "VOID" message on the surface when they have been removed. Available in Silver Void or White Destructible stocks.
Tire Adhesive Labels: These labels have a very aggressive, high tack, permanent adhesive that is designed to stick to rubber and other difficult surfaces.
UL Approved Labels: In need of UL labels? We work with an authorized Underwriters Laboratories label supplier, able to liaise with UL to find the right solution for your approved UL marks.
Don't see what you need?  I'm sure we can source it for you.  Give us a call (360.642.4431) or zap me an email and come in to discuss your label project.  I can hardly wait to work with you on these fun projects! 
–Keleigh
P.S.  This catalog ought to whet your whistle:

Click to view the custom label catalog without our website.