Posted on Jul 16th, 2010
|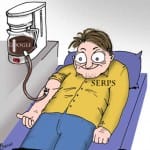 I admit it.  I'm addicted to caffeine.  Once, in college, I even shot a video that included an IV drip from a coffee pot.  Living in the Pacific Northwest where there is a coffee stand on every other block (or at least it feels that way in some towns), you can't help but be addicted to some form of caffeine.  But the Caffeine that I'm here to write about is Google's new search technology.
For those who have been watching the Search Engine Optimization world lately, you already know that Google's new search algorithm, Caffeine, went officially live on June 7th.  Partially released last September, it wasn't until early May that the full promise of Caffeine hit.  The changes Google brought forth with this new search technology devastate some sites that were optimized using old tricks that no longer work.
Google yourself; search by your company name, by the terms you think your customers may type in to find you, and see if you've been affected.
Now that the dust is settling on Google's changes, it's time to take a look at the new Google Index, its new rules and top listings.  Here is what Google considers important in your sites:
Fast Loading - delays of even a half of a second can have a negative effect on your site.  Visitor satisfaction will decrease, users will spend less time on your site and will return less frequently.  The trick is to not sacrifice quality for speed.  Smaller images would be key rather than using lesser quality images.
Quality Over Relevancy - Long tail keywords were often relevant but lacked quality.  Having more incoming links and better matching specific search queries are what Google is looking for.
Meta data is back – Google is using meta data description information for the descriptions in the search indexes. A quality description is once again an asset.  Keywords…not so much, but some.
Social Media - While you can ask users to re-tweet or share your content to help give your ranking a boost.  Remember, an aggressive social media strategy does not replace a well designed and optimized web site.  Together, however, you have a powerful machine.
Standard SEO Applies – The emphasis on the above is still small when compared to the SEO basics.  Build strong incoming links, produce unique content and optimize pages, videos and images.  Content is still the most important of all of these.
At beachdog.com, our SEO approach, for most clients, continues to be 'white hat conservative'.  We strive to apply standard SEO basics to help our customers generate longer-term 'organic' placement within search engines.  By focusing on our clients' marketing goals, we make recommendations on how to best organize their online presence to remain competitive in the dog-eat-dog world of search.  Now, more than ever, is apparent that quality content, both visual and textual, delivered in an efficient manner, is more important to search ranking than fancy tricks that often drive customers away with increased load times or distracting images.
We're offering some special pricing right now for clients who would like us to:
Analyze what Caffeine means to their site(s)
Make recommendations for improvement
Make those improvements
As always, we like to meet you where you want to be met; we'll be happy to teach you, guide you, or do it for you, at your discretion.  If you're interested in learning more, zap me a note at karl@beachdog.com, or call on Code Puppy Ethan: ethan@beachdog.com or phone either of us: 360-642-4431.
Our fellow Web Hound, Blair, is working up some social marketing packages and plans for you.  Watch this blog for details soon.  With solid 'white hat conservative' SEO, a well-designed and functioning site and social networking, miracles happen!
~Karl
Share